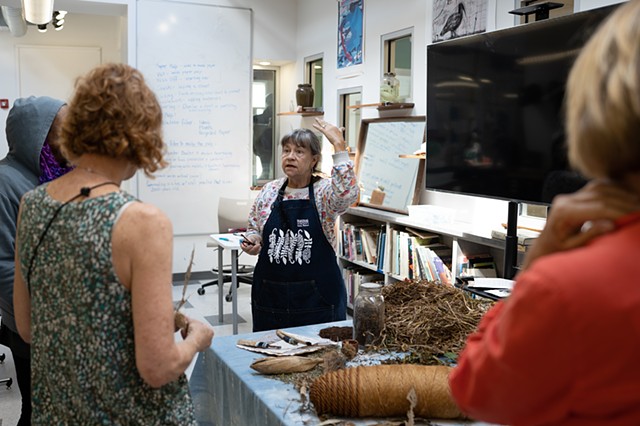 Catherine Cross Tsintzos is an artist who uses her knowledge and experience with her practice to create within the realms of both interdisciplinary and multidisciplinary components for outcomes that focus on environmental and social issues, traditional fine craft and sustainability. She has a clear purpose in building and crossing bridges among the arts with a deep focus and balance between artistic practice, teaching, activism and invitation for participation.
Catherine has spent her life's work developing arts curriculum and arts education opportunities for all ages, abilities and socio-economic backgrounds in all mediums of the visual arts in the Southeast United States. She is honored to have solid experiences rooted in museum education, rural advancement, non-profit arts organizations and community outreach and organization. Catherine is a firm believer in lifelong learning.
Catherine is a Professional Member of the Virginia Center for the Book, Virginia Humanities at the University of Virginia in Charlottesville. She is also a member of the Book Arts Guild of Central Florida at Rollins College and the Nature Printing Society.
Experiences with mediums that provide engagement with nature, processes and elements of surprise like ceramics, papermaking, printmaking and surface design techniques for fiber arts and textiles are experiences Catherine connects with during her personal art making most.
Over the past ten years Catherine's work has had a focus on developing art and agriculture intersections for curriculum development in schools and works of art that reflect these intersections. School Visiting Artist residencies have taken place in schools throughout the Southeast United States.
She has been awarded Artist Residencies from the Blumenthal Foundation twice to work on her art and agriculture project at Wildacres in Little Switzerland, NC, three times from the Rensing Center, Pickens, SC and May 2021 at the Edgewood Farm, Truro Center for the Arts, Truro, MA.
Catherine is a practicing and exhibiting artist from North Carolina.
Shakerag Workshops, Sewanee St. Andrews School, Sewanee, TN, 2023